Overview of Contact

Contact is an editorial publication that expresses the different facets of body contact.

Project Timeline
September 2020 - November 2020 • 3 months

Project Type
School project

Project Responsibilities
Art Direction, Photography, Research, Copywriting, Design

---
Design Challenge


Create an editorial publication of your choosing.






1. What is the norm?
What kind of body contact is appreciated in different cultures, business practices, etc.


2. Is contact needed?
What is its relationship to human nature?


3. Parts of the body that commonly come in contact with others
Ex: Hands: Handshaking, hand holding








Initial Proposal

Initial ideas for the direction of the publication.
Find it
here →
Inspiration


I worked for a retail company in two different cities. I noticed that with the store I worked at in Ottawa, people would wave goodbye or simply say goodbye after a shift. When I worked at a Toronto location, it was common to hug people goodbye after a shift. I wondered what caused that difference. Does the city make a difference? Or it is simply a coincidence?
My Thoughts on the Topic

Body contact is something so natural and so ingrained into most cultures one way or another. Simple gestures such as handshakes or hugs are so common in practice. Body contact is interpreted so differently depending on your culture. I grew up in a family that didn't value physical affection. I started to wonder if it was my family in particular, or if it was maybe a cultural thing.

Mood Boarding
Initial Composition Experiment
Here's the VERY
beginning →
This was the first layout idea.
I emphasized stark contrast in type to highlight key ideas.
More Development
These are following experiments with layout.
Update #1 →
Update #2 →
I valued the copy in this publication as I felt that I wrote insightful and interesting content for people to read. It was important to have headings to help guide readers.
Typefaces
My initial typefaces were Big Caslon Regular for headings and Pt Serif for body copy.
Big Calson
here →
Ogg
here →
Saol Display
here →
Pt Serif
here →
The Switch to Ogg and Saol Italic

The typefaces were then to Ogg Regular for headings, Saol Display Italic for headings (for additional emphasis). There is something so delicate about Ogg and Saol Display, which well-suited the photos as they both help to emphasize the naturalness of them.

Photography

To emphasize the concept of touch and contact, the photography style is simple and bare.
Colours

To reflect the topic of body contact, orange was utilized to echo warmth as a connotation for body contact. To refect the photography and editing style, white copy was used over orange and vice versa. Initially, copy was going to be black, though it seemed to harsh for overall soft style of the publication.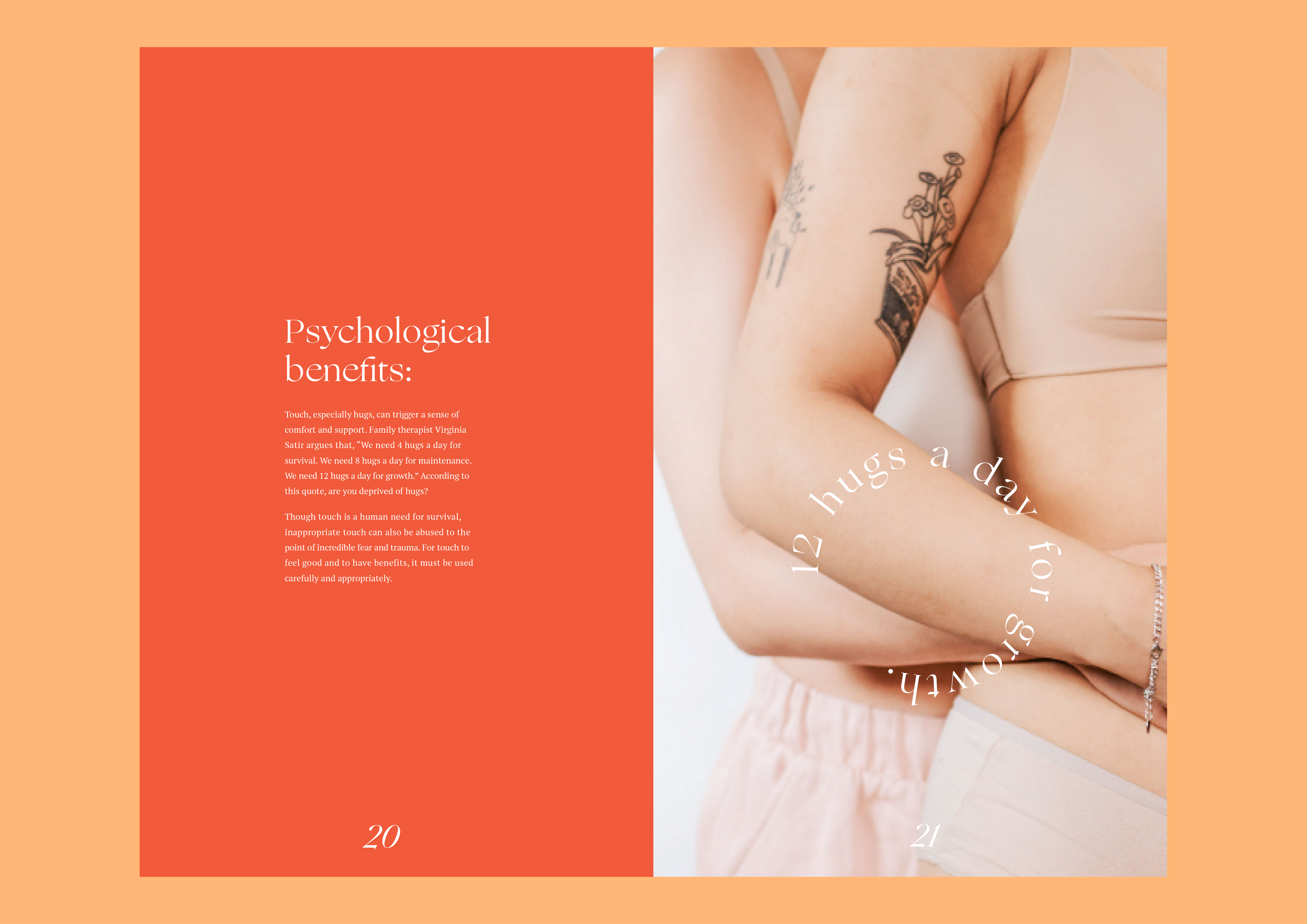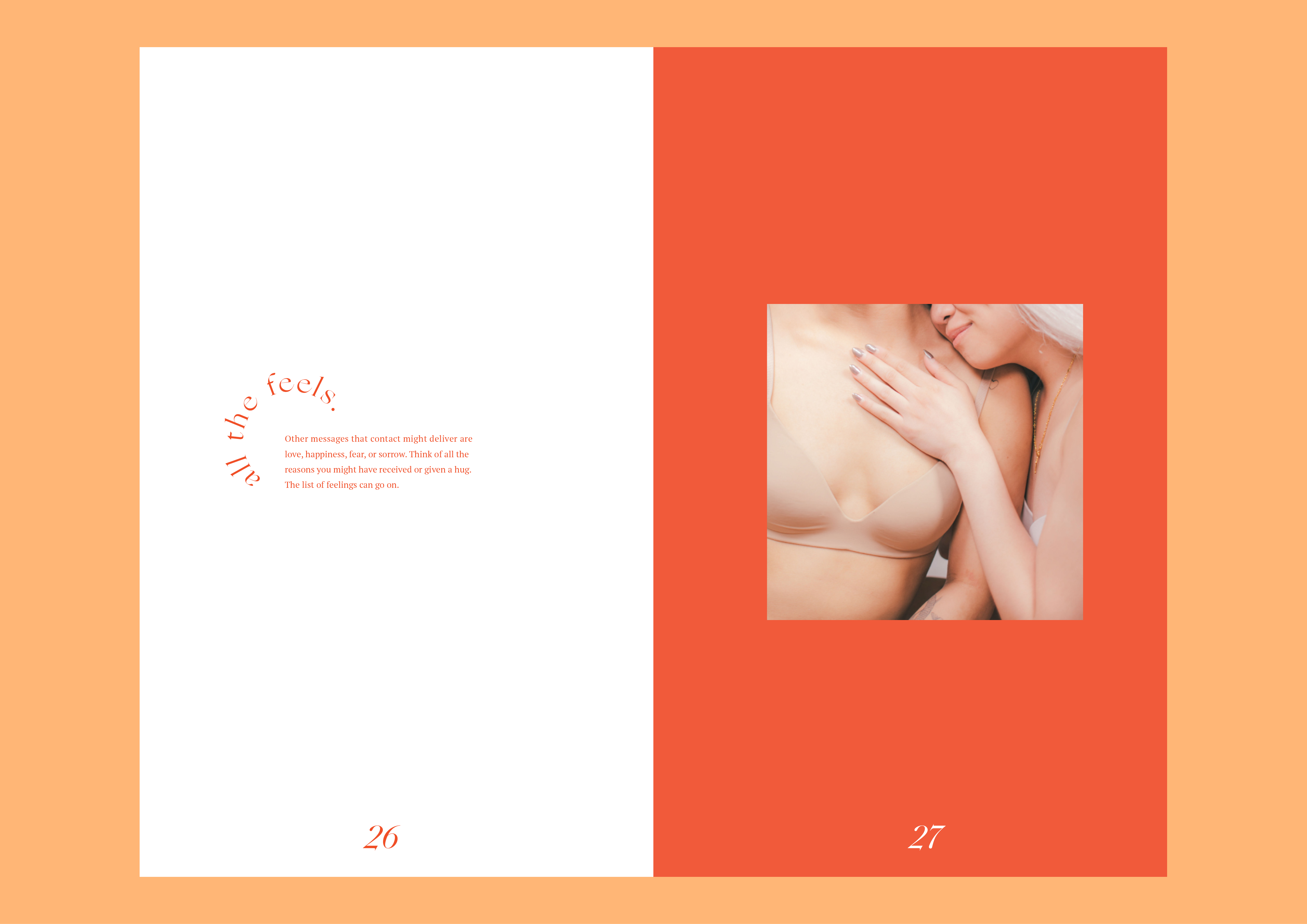 Final Takeaways


The process of generating everything, including copywriting, taking photos, editing photos, and then finally designing the spreads, was tedious and incredibly rewarding in the end.
What I Learned

🗝 My friends are amazing for letting me take photos of them
🗝 I learned a bit about the different benefits of touch
🗝 Paul Sych, my incredible prof, helped me realize the importance of leading and tracking (thank you Paul, if you're reading this)