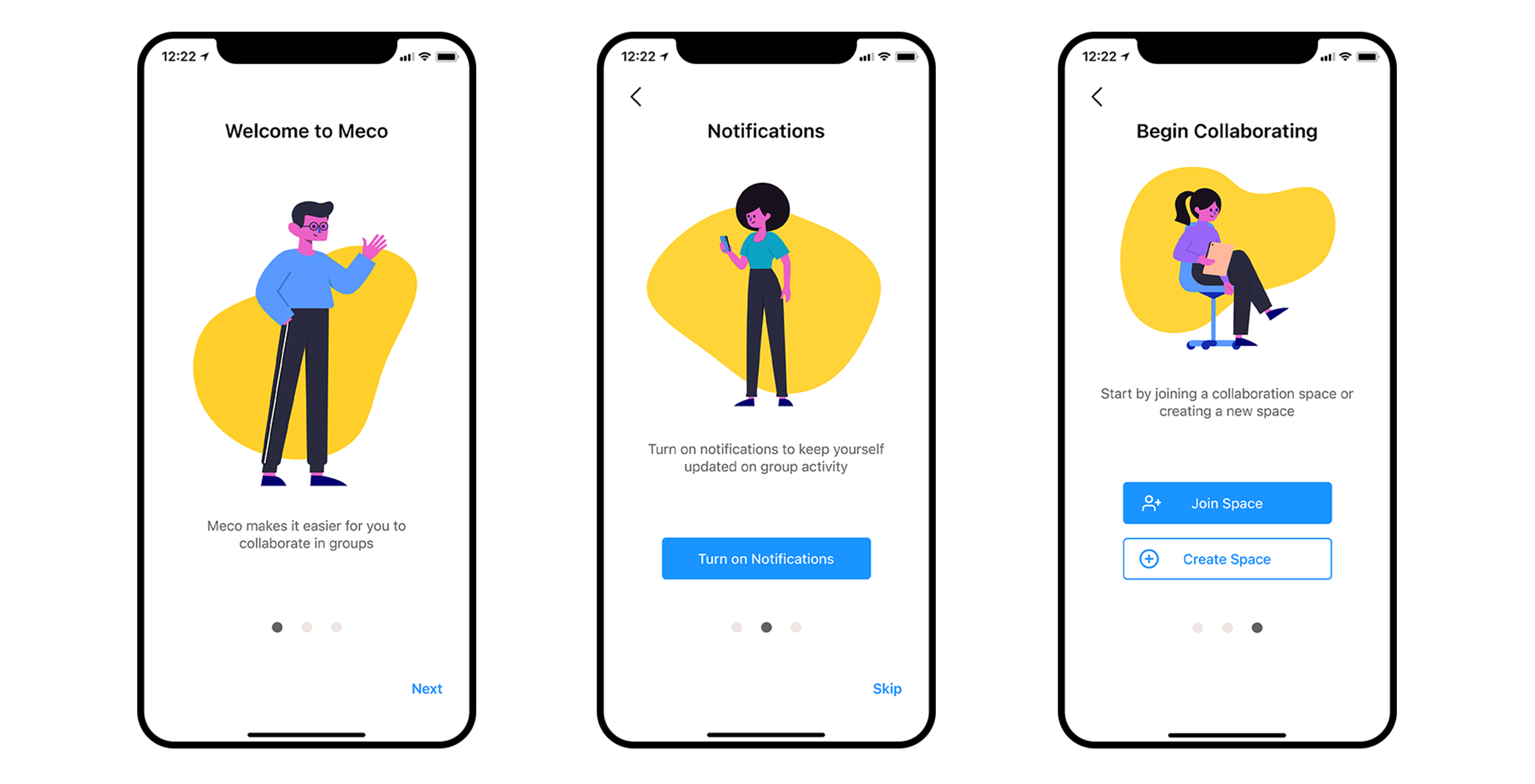 Meco

Meco is a project management mobile app meant for smaller, very collaborative groups that aims to resolve common issues in group work.

*Case study and project is still being worked on. Links and images will continue to update until the end of October

Project Timeline

July 2020 - August 2020 • 2 months

Project Type

Personal Project

Project Responsibilities

User Research, Research Questionnaire, Personas, Interface Design, System Mapping, Prototyping

Team

Holly Yoon,

Georgia Bellingham

, Myself
---
Problem


Group projects can be difficult, especially with larger numbers. Various issues can arise in group settings.

Below are some common issues that occur in group projects.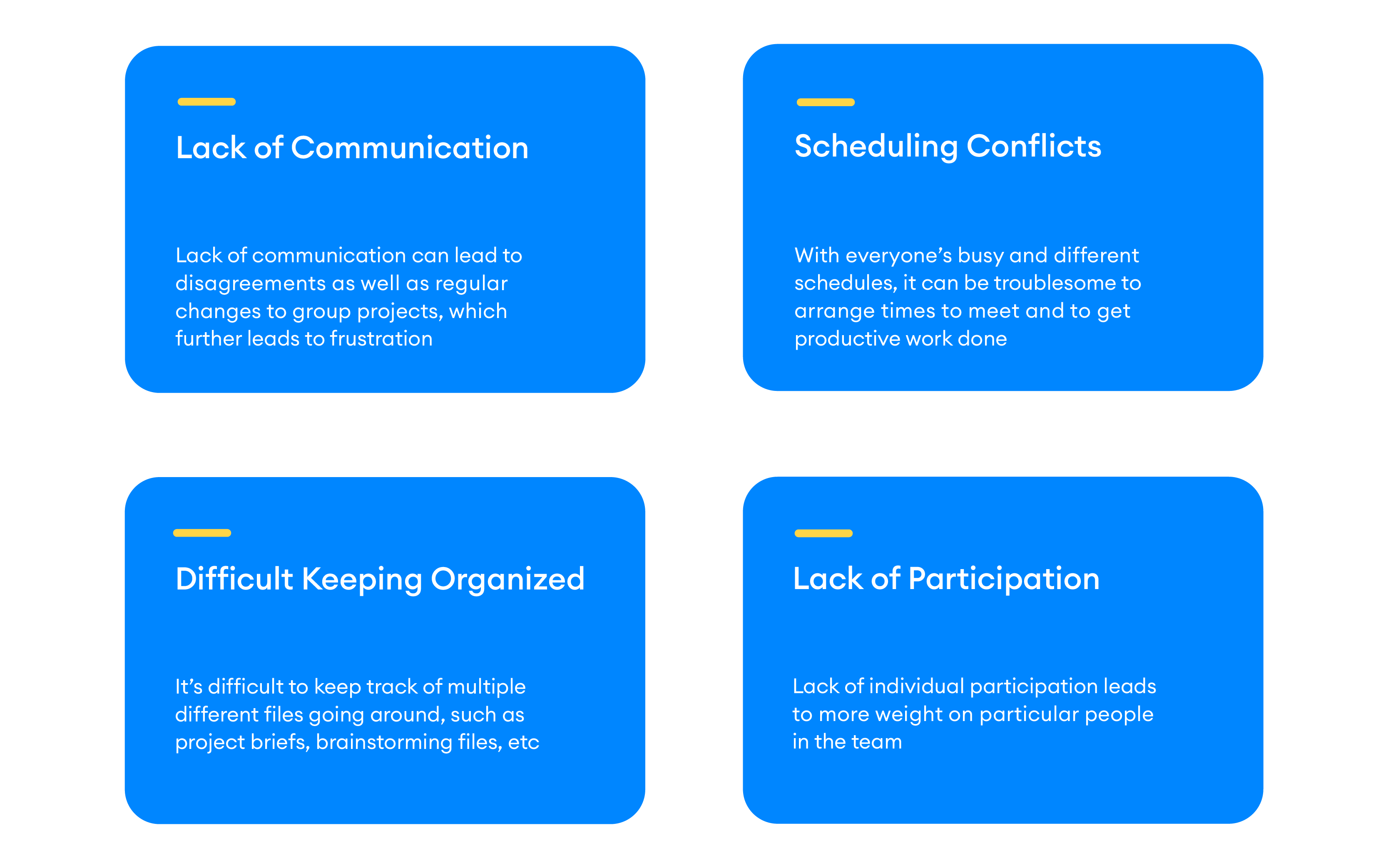 Design Challenge

How might we design a solution that solves the negative experiences that arise in group work and in collaboration?

Goal

Our goal is to make group work less of a hassle by creating a solution to relieve the difficulties of collaborating with other people. Our solution would save people from frustration, letting them complete group tasks efficiently.
Journey Map
→
As a group we brainstormed common issues in group work based on our personal experiences
→
Came up with possible user needs to resolve these issues
→
Generated potential questions to ask users to under the dynamics and the difficulty of group work
Research
Questionnaire
Find the user research questionnaire
here →
🗝 Important Note about Questionnaire
The questionnaire was sent out to 14 select university students of different programs. We acknowledge that this is a small portion of people to survey and therefore could have created a bias in our overall responses.
Questionnaire Responses
Find the top responses to all the questions
here

→
🗝 Highlights from Questionnaire


Question #3

In your experience, rank the most frustrating issues that might arise in group work. 1 being the most frustrating, 5 being the least frustrating.


Options

• General miscommunication
• Unequal contribution
• Colliding opinions
• Missing deadlines
• Scheduling onflicts
Question #4

Rank the organization methods that you find most effective in group work or collaboration. 1 being the most effective, 5 being the least effective.


Options

• Ability to share files
• Shared calendar for meeting
• Messaging platform
• Folder spaces
• Notifications for deadlines

Personas
Based on the user questionnaire, we came up with two kinds of people that might struggle with group work. We pulled quotes from users' responses to the last question of the questionnaire.
Struggles, Goals, App Feature
From our personas, we noted possible struggles and goals that these users would want out of such an app.
Find them
here

→
Market Analysis
Based on the user questionnaire, we reviewed top platforms for communication and file sharing.
Find the comparison
here

→
We that found communication and file sharing to be important in group work, which is why we considered these kinds of platforms in our research.

With the research, we wanted to highlight the key and helpful components of each platform.

Initial System Map


Trade-Offs/Revision

As a group, we realized that the pages and content could be more concise or simply unnecessary. For example, the vision board could only be of use to groups of certain programs such as design. It would likely not be needed in other types of projects. We also realized the importance of being able to join multiple groups at once, which we added in our revision.
Final System Map


Mood Boarding for Visual System

Final Visual System

*will insert soon

Easy Onboarding

Access new workspaces by requesting a 6-digit code from the workspace administrator.
Team & Direct Chat

Conveniently toggle to access team and direct messages.
Automatic Suggestions

Schedule meetings quickly with automated events.
Shared Files


Access your workspace's shared collection of files to reduce the time ebtween switching from other platforms.
Final Takeaways
What I Learned


🗝 To make sure that Desktop Figma's colour space is sRGB and NOT unmanaged 😅